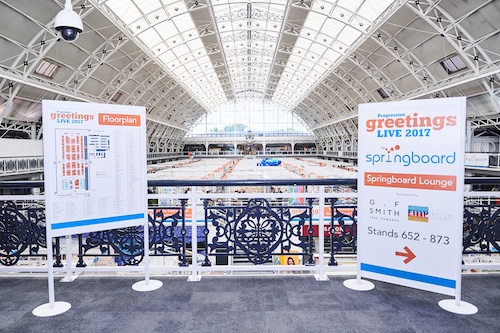 PG Live is the largest collection of greeting card publishers in the world, and the 2018 event will bring the world of greeting cards together under one impressive roof for a relaxed, enjoyable two-day show.
The impressive exhibitor line-up – from major publishers and leading brands to boutique names and new designers in the Springboard section – is matched by the friendly, supportive atmosphere, which is a key part of PG Live's appeal.
Springboard @ PG Live is dedicated to fanfaring new and emerging publishers and is a real treasure trove of undiscovered and exciting new talent just waiting to be discovered.
Everyone visiting and exhibiting receives free drinks, a delicious complimentary lunch, colourful keepsake show catalogue, full use of the Buyers' Lounge and is invited to a free party on the first night!
The 2018 Essentials:
When:              Tuesday 5 and Wednesday 6 June 2018
Where:             Business Design Centre, Islington, London N1 0QH
Contact:           Warren Lomax, director of Max Exhibitions
Telephone:       +44 (0)1635 297070
Email:               [email protected]
Website:           www.progressivegreetingslive.com
Open Times:     9.30am to 6.00pm on 5 June and 9.30am to 4.30pm on 6 June